Are you considering buying a home in La Costa Oaks Carlsbad? Most importantly you will want to learn about the La Costa Oaks Carlsbad lifestyle, demographics, or schools! From James Jam's early college years, his natural talent for working with people was evident. His B.A in human resource management developed his unmatched business communication skills. Moreover, obtaining a master's degree in business with a marketing concentration. Additionally this education is crucial to success when buying real estate. Furthermore, James continues to complete courses which allow him to meet the demands of an ever-changing marketplace. Additionally, since 1989 he has made a sincere commitment to service with excellence and integrity.
La Costa Oaks Carlsbad Luxury Homes For Sale

La Costa Oaks Carlsbad Lifestyle
Located near La Costa Oaks Carlsbad is 50 miles of preserved open space in Carlsbad. Likewise La Costa Oaks offers countless recreational activities including hiking trails. Moreover, near La Costa Oaks you can enjoy the beautiful Batiquitos Lagoon. Likewise the famous Leo Carrillo Ranch Historic Park featuring a Peacock farm is near La Costa Valley.  Many La Costa Oaks Carlsbad neighborhoods have playgrounds and dog parks.
La Costa Oaks Carlsbad has 11 subsidiary communities with unique characteristics. However, one aspect that all La Costa Oaks Carlsbad residents have in common is the La Costa Oaks HOA. Moreover, La Costa Oaks Carlsbad offers exclusive access to one of the largest and most comprehensive private community facilities. The Oaks Club has a variety of social, fitness and recreation activities for youth as well as adults. This creates an exceptional lifestyle for families living in La Costa Oaks Carlsbad Homes.
South La Costa Oaks Homes:
Clifton Heights – By Centex Homes
ColRich
Highgrove
Hillock – By KHovnanian
Starboard – By Davisdon Communities
Stoneridge – By Warmington
North La Costa Oaks Homes at Villages of La Costa:
Amberly – By Pulte Homes
Sandalwood – By ColRich Residential
Westcott – By Standard Pacific Homes
CopperWood  – By ColeRich Residential
RockLedge – By ColeRich Residential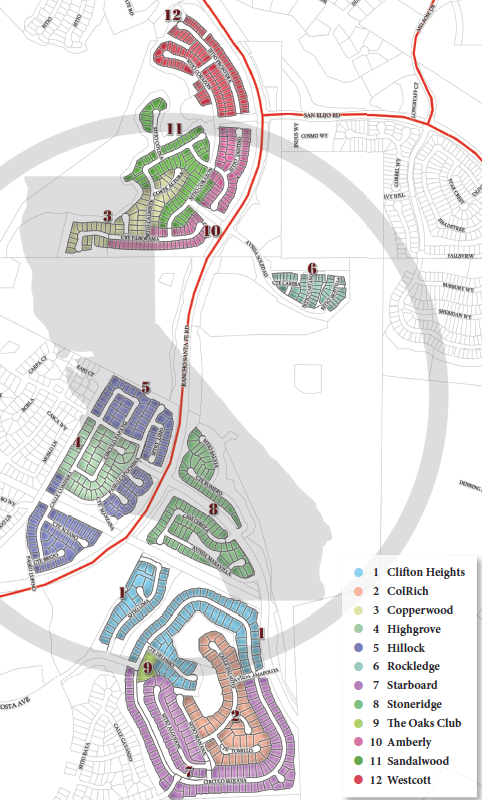 La Costa Oaks Carlsbad Schools
Many consider buying La Costa Oaks Carlsbad real estate because of the family oriented events. As well as the safe neighborhoods and great schools. Additionally, Carlsbad homes are in the Carlsbad Union School district for elementary schools. And San Dieguito Union High School Disctrict (SDUHSD). Many children who live in the community attend La Costa Heights elementary school, Oak Crest Middle School and La Costa Canyon High (LCC).
La Costa Oaks Carlsbad Real Estate Agent
Moreover James Jam's personal philosophy "Dreams Made Real" he awarded him as the top real estate agent year after year. Most importantly this philosophy encircles the perfect real estate experience. Additionally, it is the gold standard which he strives to provide each one of his clients. Likewise his pristine negotiation, communication, combined with dedication ensure his clients enjoy their dream home with a smooth transaction. Moreover it is about helping his clients every step of the way. Not to mention he makes a promise to his clients that they will receive the best possible representation with an unparalleled level of service and communication throughout the process.
"Every time I make this commitment to my clients, I place my credibility on the line, but my years of experience, in depth knowledge of the market and proven track record allow me to fulfill the commitment that I make. This is how 'Dreams are Made Real'." – James Jam
Selling your North La Costa Oaks home?
Corte Vino, Rancho Santa Fe Rd, Sitio Castano, Paseo Plomo, Sitio Frontera, Avenida Parada, Sitio Corazon, San Elijo Rd, Sitio Frontera, Corte Fortuna, Sitio Colina, Corte Altura, Sitio Caliente, Corte Panorama, Sitio Bahia, Avenida Platino, Paseo Plomo, Calle Plata, Sitio Destino, Calle Cobre, Avenida Soledad, Corte Casera, Sitio Montilla, Corte Segura,  or Sitio Arago?
Selling Your South La Costa Oaks Home on:
Corte Fresa, Rancho Santa Fe Rd, Calle Conifera, Circulo Papayo, Corte Pino, Sitio Lirio, Corte Manzana, Paseo Capuchina, Corte Brezo, Calle Tarifa, Avenida Soria, Corte Selva, Calle Nerja, Sitio Lima, Corte Aciano, Sitio Espino, Calle Pera, Sitio Sandia, Corte Romero, Sitio Salvia, Camino Junipero, Avenida Maravilla, Corte Brisa, Circulo Sequoia, Corte Delfinio, Sitio Algodon,  Camino Cereza, Sitio Manana, Calle Palmito, Corte Hortensia, Sitio Damasco or Corte Tomillo?
Market Update for Carlsbad Homes & Popular Neighborhoods Near Carlsbad
Encinitas Real Estate Market Update Single Family Homes
Condos & Townhomes in Encinitas Real Estate Market Update 
Carlsbad Real Estate Market Update Single Family Homes 92009
Condos & Townhomes in Carlsbad Real Estate Market Update
Carlsbad Real Estate Market Update Single Family Homes 92008
Real Estate Market Update for Single Family Homes in 92010
92010 Condos & Townhomes in Carlsbad Real Estate Market Update 
Real Estate Market Update for Single Family Homes in 92011
92011 Condos & Townhomes in Carlsbad Real Estate Market Update 
About the author:
The above Real Estate information La Costa Oaks Carlsbad Luxury Homes For Sale – Carlsbad Real Estate was provided by James Jam. The #1 Individual Berkshire Hathaway HomeServices Real Estate Agent in San Diego County. James can be reached via email at james@jamesjam.com or by phone at 858-210-0509. You can also visit jamesjam.com.
Thinking of selling your home in Carlsbad, CA? I have a passion for Real Estate and love to share my exclusive marketing plan.
I service Real Estate sales in the following San Diego County areas: Carlsbad 92008, Carlsbad 92009, La Costa Carlsbad 92009, and La Costa Valley 92009. Also La Costa Oaks 92009, Carlsbad 92010, Carlsbad 92011, and Encinitas 92024. In addition to Olivenhain 92024, Rancho Santa Fe 92067, Rancho Santa Fe 92127, and La Jolla 92037 Lake Hodges Escondido 92029, Elfin Forest 92029, Solana Beach 92075, Del Mar 92075, Cardiff by the Sea 92007, Del Mar 92014, Carmel Valley 92130. If you don't see your neighborhood listed, please don't hesitate to contact me to discuss the marketing and sale of your home.