Arroyo Vista Carlsbad Real Estate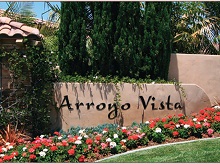 Arroyo Vista Carlsbad Real Estate
Arroyo Vista Carlsbad Real Estate is a medium sized subdivision is one of the most sought-after communities in Carlsbad. Located in southern Carlsbad, this community is situated near some of the best schools in the state of California. Award winning elementary school Olivenhain Pioneer is located across the street, and the award winning La Costa Canyon High and Diegueno Middle school are within walking distance. Arroyo Vista is also a short distance from the beach, as well as the best shopping that Carlsbad and Encinitas have to offer. Homes in this community range from around three thousand square feet to over four thousand, and are newer than most other homes in the area.
The stunning seaside community of Carlsbad is small enough to have a village charm and yet large enough to be a world-class business environment. This gorgeous coastal community borders 7 miles of pristine and serene coastline. Carlsbad beaches are known to be some of the best surf spots in Southern California and have great weather year round.
The city has drafted ordinances to protect sensitive wildlife habitats as well as pledging to protect a specified amount of land within the city limits from development of any kind. The city also sets aside 40% of its land for open space.
The beauty of Carlsbad is evident everywhere you look. The Flower Fields of Carlsbad feature 50 acres of spectacular color in bloom on a hillside overlooking the Pacific Ocean. This is one of the most spectacular and coordinated displays of natural color and beauty anywhere in the world.
Carlsbad is one of the wealthiest communities in California and in the United States thanks to its high property values, high median family incomes, and high education levels. Carlsbad Real Estate is well known for its prestine location here in Southern California and is highly sought after.
Carlsbad is a beautiful place to live with its miles of serene beaches, wide variety of housing options, fantastic shopping, world-class golf courses, low crime rates, and top ranking public and private schools. Fortune Magazine ranked Carlsbad as one of the nation's five best places to retire.
I have been actively working in Arroyo Vista Carlsbad Real Estate for over 29 years. If you are considering buying or selling a home in Arroyo Vista Carlsbad contact your Real Estate specialist, James Jam today!
Are you considering buying a home in Arroyo Vista Carlsbad? Most importantly you will want to learn about the Arroyo Vista  Carlsbad lifestyle, demographics, or schools! From James Jam's early college years, his natural talent for working with people was evident. His B.A in human resource management developed his unmatched business communication skills. Moreover, obtaining a master's degree in business with a marketing concentration. Additionally this education is crucial to success when buying real estate. Furthermore, James continues to complete courses which allow him to meet the demands of an ever-changing marketplace. Additionally, since 1989 he has made a sincere commitment to service with excellence and integrity.
Arroyo Vista Carlsbad Homes For Sale & Carlsbad Real Estate
James Jam's mobile app gives you instant access to the newest Carlsbad real estate listings. Having sold hundreds of single family homes for sale in Carlsbad, California I can provide the most accurate home values for Carlsbad properties, its neighborhoods and surrounding areas. There are currently 181 homes for sale in Carlsbad San Diego County  CA 92009 including condos, bank owned properties, and short sales.
In addition to townhomes in Carlsbad, land and luxury listings. My mobile app makes it easy for you to find your dream home with property criteria filters. Additionally you can filter Carlsbad homes by new listings within the last 7 days, price reduced this week, and upcoming open houses. Likewise, if you are looking at buying a home in Carlsbad with an ocean view or custom Carlsbad homes contact your Carlsbad Real Estate Agent James Jam for a customized search. Download my app from any mobile device.
Other popular communities within Carlsbad 92009 zip code include: La Costa Oaks, La Costa Valley, Old La Costa off Levante Street, and Saddle Ridge. In addition to Summerwalk, The Ranch, Sonata, La Cresta, Santa Fe Trails, and La Costa Knolls. As well as Villagio, La Costa Greens, Tiburon, and Parkside @ La Costa.
Arroyo Vista Carlsbad, CA Real Estate
Located near Arroyo Vista Carlsbad is 50 miles of preserved open space in Carlsbad. Likewise Arroyo Vista Carlsbad offers countless recreational activities including hiking trails. Moreover, near Arroyo Vista you can enjoy the beautiful Batiquitos Lagoon. Likewise the famous Leo Carrillo Ranch Historic Park featuring a Peacock farm is near Arroyo Vista Carlsbad.  Many Arroyo Vista Carlsbad neighborhoods have playgrounds and dog parks.
There are many neighborhoods within the Carlsbad with no HOA or mello-roos fees. However Arroyo Vista Carlsbad homes do pay HOA and mello-roos fees. Arroyo Vista has beautiful common areas which are maintained by A. McKibbin & Co. Contact me for the most up to date information regarding the Arroyo Vista Carlsbad monthly fees.
Arroyo Vista Carlsbad Schools
Many consider buying Arroyo Vista Carlsbad homes because of the family oriented events. As well as the safe neighborhoods and great schools. Additionally, Arroyo Vista Carlsbad homes are in the Encinitas Union Elementary School district. As well as the San Dieguito Union High School Disctrict (SDUHSD). Most children who live in the community attend Mission Estancia Elementary School, Diegueno Middle School and La Costa Canyon High (LCC).
Arroyo Vista Carlsbad Real Estate Agent
Moreover James Jam's personal philosophy "Dreams Made Real" he awarded him as the top real estate agent year after year. Most importantly this philosophy encircles the perfect real estate experience. Additionally, it is the gold standard which he strives to provide each one of his clients. Likewise his pristine negotiation, communication, combined with dedication ensure his clients enjoy their dream home with a smooth transaction. Moreover it is about helping his clients every step of the way. Not to mention he makes a promise to his clients that they will receive the best possible representation with an unparalleled level of service and communication throughout the process.
"Every time I make this commitment to my clients, I place my credibility on the line, but my years of experience, in depth knowledge of the market and proven track record allow me to fulfill the commitment that I make. This is how 'Dreams are Made Real'." – James Jam
Market Update for Carlsbad Homes & Popular Neighborhoods Near Carlsbad
Encinitas Real Estate Market Update Single Family Homes
Condos & Townhomes in Encinitas Real Estate Market Update 
Carlsbad Real Estate Market Update Single Family Homes 92009
Condos & Townhomes in Carlsbad Real Estate Market Update
Carlsbad Real Estate Market Update Single Family Homes 92008
Real Estate Market Update for Single Family Homes in 92010
92010 Condos & Townhomes in Carlsbad Real Estate Market Update 
Real Estate Market Update for Single Family Homes in 92011
92011 Condos & Townhomes in Carlsbad Real Estate Market Update 
Arroyo Vista La Costa Carlsbad, CA Real Estate Sold by James Jam
About the author:
The above real estate information Arroyo Vista Carlsbad Homes For Sale & Carlsbad, CA Real Estate was provided by Carlsbad Realtor James Jam. The #1 Individual Berkshire Hathaway HomeServices Real Estate Agent in San Diego County. James can be reached via email at james@jamesjam.com or by phone at 858-210-0509.
Selling your Arroyo Vista Carlsbad Home on Avenida De Sueno? or Camino Montego? Selling your home Arroyo Vista Carlsbad home on Avenida La Cima, Corte Del Cruce, or Avenida Del Alba? I have a passion for Real Estate and love to share my exclusive marketing plan.
I service Real Estate sales in the following San Diego County areas: Carlsbad 92008, Carlsbad 92009, La Costa Carlsbad 92009, La Costa Valley 92009, La Costa Oaks 92009, Carlsbad 92010, Carlsbad 92011, Encinitas 92024, Olivenhain 92024, Rancho Santa Fe 92067, Rancho Santa Fe 92127, La Jolla 92037, Lake Hodges Escondido 92029, Elfin Forest 92029, Solana Beach 92075, Del Mar 92075, Cardiff by the Sea 92007, Del Mar 92014, Carmel Valley 92130. If you don't see your neighborhood listed, please don't hesitate to contact me to discuss the marketing and sale of your home.