Thinking about buying La Costa Oaks Real Estate? Since 1989 James has made a sincere commitment to service with excellence and integrity. Having sold hundreds of homes in La Costa Oaks Carlsbad provide him with infinite knowledge. Whether you want to learn about the La Costa Oaks lifestyle, demographics, shopping and dining, or schools, you have come to the right place! From James' early college years, his natural talent for working with people was evident. His B.A in human resource management developed his unmatched business communication skills. Moreover, obtaining a master's degree in business with a marketing concentration. This education is crucial to success when buying real estate. Furthermore, James continues to complete courses which allow him to meet the demands of an ever-changing marketplace. Because of this he is able to maintain a superior sales and production record year after year.
          
Buying a home in La Costa Oaks Carlsbad
Buying a home in La Costa Oaks Carlsbad is not uncommon. The community of Carlsbad, CA embraces 50 miles of preserved open space offering countless recreational activities including pedestrian pathways with spectacular views of open space trails, the beautiful Batiquitos Lagoon, the famous Leo Carrillo Ranch Historic Park featuring a Peacock farm, multiple neighborhood parks and much more. La Costa Oaks contains 12 subsidiary communities, all of which offer their own distinctive characteristics (see details regarding La Costa Oaks, Carlsbad subdivisions below).
About La Costa Oaks HOA – The Oaks Club
One aspect all La Costa Oaks residents have in common is that the La Costa Oaks HOA offers its resident's exclusive access to The Oaks Club. The Oaks Club offers a variety of social, fitness and recreation activities for both youth and adults creating an exceptional experience for families living within La Costa Oaks Carlsbad Homes.
Buying La Costa Oaks Carlsbad Real Estate? Download my personal app to view active Carlsbad Homes For Sale. Download app from any mobile device.
About La Costa Oaks Carlsbad Schools
The prestigious La Costa Oaks neighborhood also offers family oriented events, safe neighborhoods and California State award winning schools.  La Costa Oaks homes are in the Encinitas Union School district for elementary schools and San Dieguito Union High School Disctrict (SDUHSD) for middle and high schools.
Other popular communities within Carlsbad 92009 zip code include: La Costa Oaks, La Costa Valley, Arroyo Vista, Old La Costa off Levante Street, and Saddle Ridge. In addition to Summerwalk, The Ranch, Sonata, La Cresta, Santa Fe Trails, and La Costa Knolls. As well as Villagio, La Costa Greens, Tiburon, and Parkside @ La Costa.
Buying La Costa Oaks Carlsbad Real Estate – Carlsbad Realtor
"Dreams Made Real" is his personal philosophy that encompasses the perfect real estate experience. It is the gold standard that he strives to provide to each one of his clients. James pristine negotiation, communication, and dedication to putting together the individual pieces will ensure his clients enjoy their dream home and experience a smooth transaction. It is about helping his clients every step of the way. James makes a promise to his clients that they will receive the best possible representation and an unparalleled level of service and communication throughout the process.
La Costa Oaks Market Update For 2015
Average Days on Market: 53   .   Total homes sold in La Costa Oaks in 2015: 101   . James Jam's Average Days on Market in 2015: 24
| | | | | |
| --- | --- | --- | --- | --- |
| |     High |     Low |     Average |     Median |
|     LIST PRICE |     $1,995,000 |     $759,000 |     $1,1159,286 |     $1,149,999 |
|     SALE PRICE |     $1,610,000 |    $759,000 |     $1,108,797 |     $1,125,000 |
La Costa Oaks Carlsbad Communities
La Costa Oaks (South): Clifton Heights – By Centex Homes  .  ColRich  .  Highgrove  .  Hillock – By KHovnanian .  Starboard – By Davisdon Communities  .  Stoneridge – By Warmington .  The Oaks Club
La Costa Oaks at Villages of La Costa (North): Amberly – By Pulte Homes  .  Sandalwood – By ColRich Residential  .  Westcott – By Standard Pacific Homes .  CopperWood  – By ColeRich Residential  .  RockLedge – By ColeRich Residential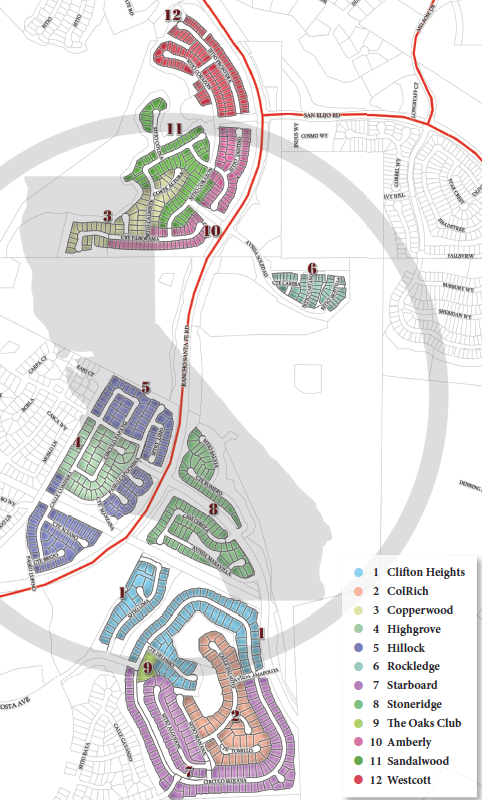 Real Estate Sold by James Jam in La Costa Oaks, Carlsbad, CA
| | | | | |
| --- | --- | --- | --- | --- |
| Address | Beds | Bath | SF | Sale Price |
| 7361 Corte Tomillo | 5 | 6 | 4,714 | $1,360,000 |
| 7348 Corte Hortensia | 5 | 6 | 4,717 | $1,355,000 |
| 7325 Corte Tomillo | 5 | 5 | 4,817 | $1,325,000 |
| 7575 Circulo Sequoia | 4 | 4 | 3,743 | $1,125,000 |
| 7359 Paseo Capuchina | 5 | 5 | 3,487 | $969,000 |
| 3516 Corte Romero | 4 | 4 | 3,118 | $960,000 |
| 3420 Corte Aciano | 5 | 4 | 3,654 | $935,000 |
| 3395 Corte Panorama | 4 | 3 | 2,663 | $855,000 |
| 3401 Corte Brezo | 5 | 4 | 3,489 | $825,000 |
| 3445 Corte Panorama | 5 | 4 | 2,889 | $820,000 |