James Jam is a Luxury Home Specialist in Carlsbad who can sell your Carlsbad home FAST! Since 1989, James been selling luxury homes in Carlsbad and has also lived in the area for many years. WIth his experience, training and knowledge of the area, James is the best Carlsbad realtor to help you sell your home for the highest price, in the shortest time.
As a Berkshire Hathaway HomeServices (BHHS) agent, James has a high responsibility not only to provide the highest level of service to his clients, but to uphold the BHHS brand name — one of the most prestigious in the real estate industry. So when you trust James with selling your luxury real estate in Carlsbad, you're getting attentive local service with a global reputation for quality.
Proven Marketing Plan
In Carlsbad, selling luxury homes is a competitive job in a fierce market. You don't want to go in without a game plan. In James' experience, a Proven Marketing Plan is a must to sell a home fast — and he has a proven record of getting results for his clients who need to sell their Carlsbad luxury homes quickly.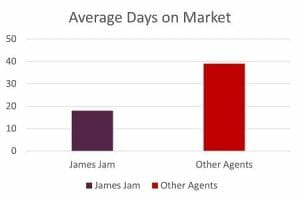 For over a decade, James has been one of the top 100 BHHS agents nationwide, for sales production and volume. Selling your Carlsbad luxury home with Berkshire Hathaway HomeServices (BHHS), combined with James' unique marketing plan, ensures the best results.
Don't settle for less! With James and BHHS, you'll receive an aggressive, innovative marketing plan developed by a Realtor who understands how to properly market homes online. It's an approach that clearly works: James has sold over 200 luxury homes in Carlsbad, representing 88% of sellers and 12% buyers. Read about What others have to say about James Jam!
Dedication
As you know, having a driver's license doesn't make you an experienced driver. Likewise, not all licensed agents have the skills, experience and knowledge that it takes to be successful in Carlsbad selling luxury real estate. The proof is in the selling stats: James' sales to asking price ratios are constant, and he consistently has a short average time on market.
In addition, one of the key traits that James' clients appreciate is his dedication. His passion for the real estate industry is clear, and he is always available 24/7. If you're serious about selling your Carlsbad luxury home for the best price and quickly, it is crucial to have a dedicated Luxury Home Specialist on your team. Read more about what you need to know to find a Carlsbad Realtor to sell your home.
Free, Quick and Easy Market Evaluation
Want a Carlsbad Luxury Home Specialist by your side who has over 28 years of proven results? To receive a free, quick and easy market evaluation for selling your Carlsbad luxury home, fill out the form below. For more information, you can also read more about How to Value a House.
What's your home's worth?
Luxury Home Specialist in Carlsbad, CA – Sell Your Carlsbad Home FAST
Globally Respected
Benefit from a globally respected reputation and sound financial foundation when you choose to sell your Carlsbad luxury home with James Jam, agent with Berkshire Hathaway HomeServices.
James is the #1 Individual agent with the first real estate company to be dignified with the BHHS brand name. Likewise, BHHS California Properties is at the forefront to launch a new era in the real estate industry. Although the company's roots are local, the goal is global due to the recent increase of foreign buyers.
You can view a few of the many personalized listing links below with James Jam, Luxury Home Specialist in Carlsbad:
Related Articles to Selling Carlsbad Real Estate:
Luxury Home Specialist in Carlsbad
James Jam is a Realtor with Berkshire Hathaway HomeServices (BHHS) California Properties. BHHS has over 30 offices and 1,000+ agents, and is the largest residential real estate company in the country.
BHHS is a varied agency that provides local, national and international exposure — including real estate markets in Asia, Europe, and beyond. James works with his BHHS associates directly to promote and show your Carlsbad luxury home.
And if you're relocating, you will benefit by having James Jam, a certified relocation specialist, on your side along with BHHS's close ties to top fortune 500 companies.
Built on A Foundation of Trust
Trust is more than just a catchword at Berkshire Hathaway. It is an attitude, a passion ingrained in the nearly 3,000 sales associates and 60+ offices in Southern California as well as the very core of the relationships we build with buyers and sellers every day. Trust is also why thousands of clients have found their perfect home — or have been successful selling their Carlsbad luxury real estate — by placing their trust in James Jam.
MISSION: Create and deliver unparalleled customer service throughout all residential property transactions.
RESOURCES: A full menu of services including home financing, relocation assistance, insurance, escrow, title, and home warranty.
VALUES: Berkshire Hathaway HomeServices is among the few organizations entrusted to use the Berkshire Hathaway brand name — a name representing trust, strength, and integrity. The sales associates, managers, and employees of Berkshire Hathaway embody those same values, as does James Jam as your Carlsbad luxury real estate agent.
"Dreams Made Real": A Philosophy in Action
James Jam's personal vision can be summed up in his motto, "Dreams Made Real." This is a vision that has led him to be awarded the Top Realtor designation year after year.
"Dreams Made Real" is a view that encapsulates the perfect real estate experience which James strives to provide each one of his clients. James' pristine negotiation, communication, and dedication ensure his clients enjoy a smooth transaction as they sell their Carlsbad home or buy their dream home. It's all about helping his clients every step of the way. James' promise to every client is that they will receive the best possible representation and level of service.
"Every time I make this commitment to my clients, I place my credibility on the line. However my years of experience, in depth knowledge and proven track record allow me to fulfill this commitment. This is how 'Dreams are Made Real'." – James Jam
Education
James holds a B.A in human resource management, which developed his unmatched business communication skills, and he also obtained a master's degree in business with a marketing concentration.
In addition to his formal education, being a Luxury Home Specialist in Carlsbad since 1989 has educated James about the Carlsbad area, lifestyle and schools. He is intimately familiar with the area's neighborhood characteristics, shopping, dining and much more.
The communication and marketing skills James learned through his education is crucial to his success when representing clients in selling their Carlsbad luxury homes or buying real estate. He continues to complete courses which allow him to meet the demands of an ever-changing marketplace.
Awards & Achievements
#1 Individual Berkshire Hathaway HomeServices Agent in San Diego County for the highest total dollar volume and number of homes sold.
Top 100 Nationwide
"100 Percent" Outstanding Performance Award – For a minimum of 6 homes sold per month, every month of the year.
Senior Sales Associate
Executive Sales Director
Chairman's Circle Diamond Award
Realtor since 1989
Certified Relocation Specialist
REO and short sale real estate agent
Architectural Specialist
Certified Staging Specialist
Luxury property Specialist
Estate Division Specialist
Resident Property Specialist
About the author:
The above Real Estate information, Luxury Home Specialist in Carlsbad, CA – Sell Your Carlsbad Home FAST, was provided by James Jam. The #1 Individual Berkshire Hathaway HomeServices Real Estate Agent in San Diego County.
Thinking of selling your luxury home in Carlsbad, CA? I have a passion for Real Estate and love to share my exclusive marketing plan.
I service the following Carlsbad neighborhoods: La Costa Oaks, Arroyo Vista, and La Costa Valley. As well as Summerwalk, Saddle Ridge, The Ranch, Sonata, La Cresta, and Santa Fe Trails. In addition to La Costa Knolls, Villagio, and Tiburon. However, if you don't see your neighborhood listed, please don't hesitate to contact me.
Schedule a Free Market Evaluation of Your Home Today!