If you are selling your home you may be wondering how to value a house. Additionally, many people ask "is price per square foot important?" The short answer to this question is not really. Price per square foot can be a useful tool to learn about the real estate market value. However, there are many elements that factor into the value of a home that this simple formula does not consider. Moreover, it may seem logical that if you take the price of a home, divide it by the square footage, you will arrive at price per square foot as the value of your home. Meanwhile, it does not take into account whether the home has an obstructed view or not. Likewise it does not consider if the home was recently renovated, or if the home uses basic materials or has newer energy efficient appliances.
How to Value a House
     Price of a home      =  $ per square foot
Square footage of home
Any experienced Realtor will attest that there are far too many characteristics of a home for this simple equation. Likewise, many characteristics can compromise the price per square foot method as a basis for the value of a home. The square footage formula is also how Zillow's "Zestimate" works. Additionally, this is why many real estate agents discourage clients from using "Zestimate." Often times a house Zestimate is grossly overvalued or undervalued. Moreover, it provides homeowners with a false perception of the actual value of their home. Below is a more accurate way to determining the value of your home. As well as an explanation of how it is more complex.
Location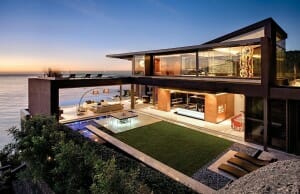 First on the list of how to value a house is the location. We've all seen those stunning beach front homes worth a fortune. Have you ever considered how much money the location factors into the value of a home? I have a perfect example to example. Two tract homes have the same number of bedrooms, bathrooms, and square footage. However, one is located west of I-5 in Del Mar, CA and the other is located about 3 miles east in Olivenhain, Encinitas, CA. The Del Mar home sold for $270,000 more than the home in Encinitas. Moreover, a similar home in Westerville, Ohio is $1.5 million less expensive. This proves that location makes a huge difference whether the house is 3 miles or 2,000 miles away.
Additionally, beach and water front homes are not the only variable when it comes to location. A home can go up in value with a close proximity to a highly state ranked school. On the other hand, the value of a home may be lower due to the school district. Moreover, location may affect the value of a home depending on what side of the street it is situated. For example, two homes in Carmel Valley are located on the same street and built by the same builder. Additionally they have the exact same layout. However, one had a view with upgrades and the other didn't. Therefore the house with a view sold for $60,000 more!
Quality of materials
Second on the list of how to value a house is the quality of materials. To determine the true value of a home, it is important to understand that homes are built using different quality of materials. Likewise some materials appeal to lower income families, while others middle and upper class.  When building a home for a lower income family, the builder's intention is to keep the cost of materials low. Of course, still passing code requirements. Lower quality appliances, flooring, windows, as well as roofing will comprise the value of a house.
For middle class families, builders use more durable materials than the economy home and often add more durable and better quality cabinetry, heating system, or newer plumbing. A step up from the standard home is a custom built home which adds features such as granite countertops, bamboo wood flooring, or handmade cabinetry. A custom home may also include high end architectural characteristics such as roman style columns, brick or stone walls, and top of the line appliances, windows and fixtures. Custom built homes are often refined to meet a specific buyer's desires and give priority to quality characteristics rather than cost efficiency.
Luxury Homes
Finally, you have the luxury dream homes found in magazines. These are the homes everyone fantasizes about living in. Luxury homes embrace impressive attention to detail. Moreover, they spare no expense as they feature the best of all worlds. From lavish home theaters, an indoor waterfall, as well as window walls are common in luxury homes. Likewise luxury homes are affordable to the top 1% income levels. Good news is, you can always increase the value of a home regardless of the original intention. We've all seen those entertaining real estate reality TV shows "Love it or list it," "Extreme Makeover," and "House Hunters." With an expert's assistance, renovations and upgrades can turn a standard built home into a custom home. While the location and the quality of materials are often the foundation for pricing a home, there are still other items that distinguish the value of a home.
Supply and Demand
Next on the list of how to value a house is creating demand. As we've all learned in economics, a low supply of an item coupled with a high demand of that item can increase the value of the item. For example, there is a high demand of single level homes in La Costa, Carlsbad California coupled with a limited supply. Regardless of the homes other characteristics, due to its prime location and high demand, these homes often sell well above a larger home that is two stories. Single level homes are typically popular with elderly or injured people who have a difficult time walking. These types of homeowners will not only overlook the material traits of a home, but they will pay top dollar so long as it improves the quality of their lifestyle and well-being.
While location, quality of materials, and the supply and demand of a home are the foundations of pricing your home, there are many subdivisions within these categories that only an experienced Realtor can assist you with when determining the value of a particular home. It is important to find a real estate agent that you trust and that has a proven track record who can provide you with the most accurate value of a home. For a free market evaluation of your home, please complete the contact form to the right of this page.
Related Articles:
Use these additional top home selling tips to make the right decisions when selling. Mistakes can happen very easily when you don't follow sound advice.
About the author:
The above Real Estate information on How to Value a House – Real Estate, Is price per square foot important? was provided by James Jam, the #1 Individual Berkshire Hathaway HomeServices Real Estate Agent in San Diego County. James can be reached via email at james@jamesjam.com or by phone at 858-210-0509. James Jam's personal philosophy is "Dreams Made Real" that encompasses the perfect real estate experience. It is the gold standard that he has strived to provide throughout his career as a residential real estate agent since 1989.
Thinking of selling your home in Encinitas, CA or your home in Carlsbad, CA? I have a passion for Real Estate and love to share my exclusive marketing plan.
I service Real Estate sales in the following San Diego County areas: Carlsbad 92008, Carlsbad 92009, La Costa Carlsbad 92009, La Costa Valley 92009, La Costa Oaks 92009, Carlsbad 92010, Carlsbad 92011, Encinitas 92024, Olivenhain 92024, Rancho Santa Fe 92067, Rancho Santa Fe 92127, La Jolla 92037, Lake Hodges Escondido 92029, Elfin Forest 92029, Solana Beach 92075, Del Mar 92075, Cardiff by the Sea 92007, Del Mar 92014, and Carmel Valley 92130.