Before spending time and money on the wrong Encinitas home improvements, read these tips to help boost the value of your home. There are many Encinitas home improvements that can be done, however not all provide a return on investment. Among other improvements, with a strict budget I typically recommend remodeling an outdated kitchen first. In my experience, a kitchen remodel always provides the highest return on investment (ROI). Having been in the real estate industry since 1989, I can attest these are tride and true tips.
Encinitas Home Improvements

Many Encinitas home improvements are initiated before selling a home. Therefore, it is important to understand that there are three judges to impress. The first judge of the actual home value includes the home buyers, then Encinitas realtors, and finally the appraiser. Below I will discuss how to boost your home value, but it is also crucial to understand why these opinions are so important.
Often times home buyers grossly overestimate how much it costs to remodel a kitchen. As a result, many buyers will disregard a home with an outdated kitchen. Unfortunately the result is the buyer instantly determines the house will not work. Likewise, buyers may misjudge how long the kitchen remodeling process takes. Encinitas homes are in great schools, in turn many look for a "move-in" ready house that they can settle into before the school year. There are also a number of Encinitas residents who consider moving because they're interested in a more upgraded house than their current home. Regardless of their reason for moving, I have never seen someone walk into a home and say "I have to have this bathroom! We will make the outdated kitchen work." Most buyers will see the value of a home when the kitchen is highly upgraded.
Kitchen Remodel
When a buyer is interested in a home they will go their local realtor. This is where the finer details of your upgraded kitchen are important. Most real estate agents will not only be able to determine the value of the materials used and design trends. Instead they will compare your home to other properties that are listed for sale or recently sold. When an offer is accepted, the buyer's lender will order an appraisal. At which point the appraiser's report will determine how much money the buyers will be able to receive based on their perception of the home's value.
On the other hand, if the buyer has cash then you're in luck! Most cash buyers do not order an appraisal. Although, an Encinitas home improvement shouldn't be based on receiving a cash offer. Below I have provided the key features to focus on for an Encinitas home improvement that are sure to impress.
Appliances
When considering Encinitas Home Improvements to boost your home value, first look at the appliances. Although the look of appliances are key, more can be done to ensure an increase in a home's value. An appraiser as well as a realtor will also review the capacity, energy use and efficiency of your kitchen appliances. Additionally, if you are planning on enjoying your new kitchen before you sell your home, consider purchasing appliances with a life time warranty to avoid additional costs for manufacture's errors in the future. If financial constraints limit your ability to replace your old appliances, contact your local electric company regarding their special offers. San Diego Gas & Electric (SDGE) often times rewards energy efficient appliance buyers. Additionally,  free replacements of all kitchen, laundry and bathroom appliances may be available (subject to income qualifications)!
If you don't qualify for your local company's offer, I will discuss in more detail later other ways to save and increase your ROI. First, do you research and focus on the most important criteria including: capacity, energy use, efficiency, and warranty. Also note that a refrigerator cost can be anywhere between $1,500 – $9,000. Of course, your sales rep may recommend the upper end of the range, keep in mind that by doing so it can offset your cost to value ratio. Once you calculator your cost versus quality analysis, purchase these items at the same time to receive the best discount.
Timing
Timing is everything – even when it comes to Encinitas home improvements! Every year offers a number of changes to get great discounts on for materials. Typically manufacturers release their newest models in September and October. Therefore, making it the best time to get a deal on the next best model. Another great time to buy is during Holiday weekends sales. Unlike other families, be sure to leave room in your budget to take advantage during the off season sales. Planning and timing go hand in hand, and is a sure way to avoid higher prices. Besides, it will help lower stress often accompanied with Encinitas home improvements.
Let there be light
Next way to Increase the Value of a Home is allowing light into the home. Some of the best photos of homes for sale are of houses that allow light. Many buyers will detest a small, dark kitchen but there are a variety of options that can help fix a dark and compromised layout. If your kitchen doesn't have an existing window nearby, consider installing one to allow natural light into the space. Alternatively a skylight is a favorable alternative. Moreover, if there is an existing window but you still have an issue with lighting, consider installing custom window shutters to allow for light and privacy.
On the other hand, there are many alternative ways to allow light into your kitchen. Consider energy efficient lighting fixtures that can dramatically improve the look and feel. As well as lower the monthly utility bills. Moreover, it is important to have stylish light fixtures. Keep in mind that many people value an energy efficient home. Talk to a contractor, or take a look at a current magazine for current lighting trends.
Allow Space
An ideal kitchen allows for practicality and functionality, so you may need to add or remove stools from a center island or breakfast counter, install a wet sink to give your island purpose, or add/remove extra storage space. Lastly, if your kitchen is connected to your dining room, an elegant arched doorway without a door can open the space of your kitchen as well as your dining room. These modifications are sure to impress and will effectively add value to your home.
Quality of Materials
Everyone loves the look of travertine and handmade wooden cabinets. On the other hand, it is important to keep the quality of materials throughout your home consistent. Avoid the feeling of warping through time as you walk through your home. Likewise, if you are removing popcorn ceiling then certain materials may draw attention to the rest of your outdated home. A combination of granite counter tops, elegant lighting fixtures, and porcelain or laminate flooring will compliment and add value to most homes.
Routine Maintenance
   Finally, Increase the Value of a Home by continuing routine maintenance. Once your kitchen has the quality of appliances and materials we discussed you are near the success of increasing the value of your home. Routine maintenance such as cleaning, repairing leaking faucets, chipped cabinetry, and repaving old or stained grout is crucial. With water and food splashing around, kitchens are prone to producing wear and tear within a short amount of time, so it is imperative to maintain proper upkeep of your kitchen to avoid additional fees for repairs. Keep in mind that when a buyer walks into your home they will be analyzing how well you have maintained the home; therefore unclean and un-repaired items will have a negative reflection on the overall value of your home. If you feel overwhelmed with the task of repairs and cleaning, consider hiring a professional to assist you with these tasks.
Encinitas Home Improvements
In conclusion, avoid buyers from walking straight into and out of your home. Update your kitchen to increase the value of your home. Upgrading your kitchen appliances and features with quality materials can shorten the length of time your house is listed for sale. Additionally it will impress your buyer, local real estate agent, and appraiser. While it is always important to show all areas of your home in the best light possible, many buyers will see the value of a home if the kitchen is up to date. When upgrading your appliances, quality of materials, and lighting, remember that the efficiency and style is important. Before you splurge on that dream kitchen or add an extra bedroom, make sure you consult a professional. For a free market evaluation of your home, complete the contact form to the right of this page.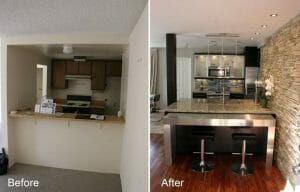 Encinitas Home Improvements Related Articles:
About the author:
The above Real Estate information on Encinitas Home Improvements – How to Boost the Value of Your Home was provided by James Jam. The #1 Individual Berkshire Hathaway HomeServices Real Estate Agent in San Diego County. You can reached James via email at james@jamesjam.com or by phone at 858-210-0509.
Thinking of selling your home in Encinitas, CA? I have a passion for Real Estate and love to share my exclusive marketing plan.
I service Real Estate sales in the following San Diego County areas: Carlsbad 92008, Carlsbad 92009, La Costa Carlsbad 92009, La Costa Valley 92009, La Costa Oaks 92009, Carlsbad 92010, Carlsbad 92011, Encinitas 92024, Olivenhain 92024, Rancho Santa Fe 92067, Rancho Santa Fe 92127, La Jolla 92037, Lake Hodges Escondido 92029, Elfin Forest 92029, Solana Beach 92075, Del Mar 92075, Cardiff by the Sea 92007, Del Mar 92014, and Carmel Valley 92130.