It is likely that you're considering the benefits of using a Real Estate Agent in La Costa because of the high cost of a Realtor's service. The primary reason most homeowners sell without an agent is to save money. However, what many don't realize is that one of the greatest benefits of using a Real Estate Agent in La Costa is to get the highest price possible in the shortest amount of time. Understandably, some homeowners have a hard time seeing the value of a service. Especially when that service costs as much as a new luxury car. Although real estate commission is negotiable, it can cost you a pretty penny.
San Diego commission can range as low as 4% and as high as 6% with the best real estate agents. I typically represent homeowners in the sale of their La Costa homes and Carlsbad homes. In these neighborhoods it is common to have a $1.3 million home. Therefore calculating to a listing agent's commission of $52,000 – $78,000. However 80% of all FSBO home without an agent end up hiring a Realtor after unsuccessfully selling their home. There seems to be a misconception about the level of skill and expertise that selling a home requires. Below are a few benefits of using a Real Estate Agent in La Costa.
The first of many benefits of using a Real Estate Agent in La Costa is to get the best price. When selling a home without an agent, the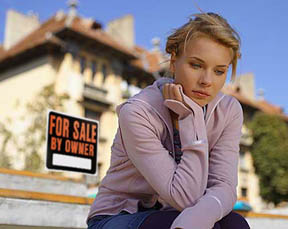 top mistake is listing a home at the wrong price. If a home is overpriced you stand a very low chance of selling it. Many homeowners do not have the resources nor experience on how to value a home (why Zestimate is inaccurate). Pricing strategy is one of the most critical elements when selling any product. Especially when selling your most valuable asset, your home. Accurately pricing a home is an art that many real estate agents have diligently worked to perfect. Many San Diego homeowners who sell their home without an agent end up choosing the wrong price.
It is especially important to have someone who works locally and knows the area. I have lived in the North County Coastal area for over 30 years. Additionally, I have worked in real estate for over 28 years, and have lived in Encinitas for over 18.
The most common mistake I see when selling a home without an agent is the dismissal of the value given. Additionally, many people who sell homes without an agent use their own method to determine the price of a home. I often see homeowner's emotional investment in the pricing of their home. Especially when they have recently made a costly modification to their home. Unfortunately many modifications and remodeling projects are not considered an improvement or return on investment. Rather, they are classified as routine maintenance (learn how to increase the value of a home).
Lack of Online Real Estate Exposure
Nearly 90% of people start their home buying process by searching online. However listing your home for sale on Zillow with a "For Sale" sign in your yard doesn't guarantee a sale. There are many benefits to hiring a real estate agent. Moreover, an agent who works with a world renowned broker such as Berkshire Hathaway HomeServices. For example, BHHS is constantly contracting with companies to automatically syndicate their agent's listings. Likewise on several hundreds of websites that are accessed worldwide. Most FSBOs don't consider that their buyer may be in another country, and that common websites that are used within the United States such as Zillow and Trulia, do not provide international exposure, therefore limiting your home's online presence.
Furthermore, after clearing your browsing history (to get a more accurate idea of what a potential buyer will see when they search for a new home) go to Google and type in "La Costa homes for sale", "La Costa real estate", or "Encinitas homes for sale". As you will see, these example keywords populate a variety of options to find a home, all of which offer hundreds of La Costa homes (or Encinitas homes for sale) and thousands of homes for sale within San Diego County which are automatically syndicated from the San Diego Multiple Listing Service (MLS). This is another one of the benefits of using a Real Estate Agent in La Costa.
Benefits of using a Real Estate Agent in La Costa
Another Benefits of using a Real Estate Agent in La Costa is that you get the right price. Many for sale by owners don't consider that potential buyers know that you are not paying a real estate agent's commission. Therefore, the majority of FSBO buyers are discount shopping and expecting you to be fair by sharing the savings on the commission. It is not uncommon for a buyer to automatically offer 5% less to a FSBO. Due to hundreds of real estate agents in San Diego County, finding a realtor can be a daunting task. Learn How to find a Carlsbad Realtor today.
Accessing The Home and Buyer Qualifications
The logistics of working a job while playing real estate agent is a heavy load to handle. Most FSBOs don't realize that serious home buyers expect to access your home during all hours of the day. Therefore, if you're at work 9 to 5 and cannot accommodate your prospects, they may forgo your house all together. Additionally, if you don't know how to pre-qualify a potential buyer you could be wasting your time. Many people like to look at homes but are not ready or able to buy a home. Knowing the right questions to ask before showing a home makes a huge difference.
Most importantly your safety is at risk when you open your home to strangers with having little to no information about them. The California Bureau of Real Estate (CalBRE), National Association of Realtors, San Diego Association of Realtors (SDAR), and North San Diego County Association of Realtors (NSDCAR) are all organizations that verify the credibility and integrity of a licensed real estate agent in San Diego county. These organizations also provide agents with disclosures that protect both the buyer and the seller from dreadful real estate lawsuits. By eliminating a real estate agent from your real estate transaction, you are increasing the risk of your well being as well as your financial standing.
In Conclusion
While Selling Real Estate without a Realtor may seem like an attractive option to save money on real estate commission, 80% of all homes listed end up hiring a realtor after unsuccessfully selling their home on their own. As mentioned, a few of the many Benefits of using a Real Estate Agent in La Costa include getting the highest price in the shortest amount of time, maximum exposure, accurate value, as well as unlimited professional availability and advice. There are many associations in place which scrutinize the credibility of real estate agents, in order to protect homeowners when they sell their home and buyers when they purchase a home. In conclusion, don't risk you or your family's security for perceived financial gain.
If you are trying to sell your Carlsbad home without a realtor and find you end up needing professional advice, I would welcome the opportunity for an interviewed.
About the author:
Benefits of Using a Real Estate Agent in La Costa – Selling Real Estate in Carlsbad was provided by James Jam. The #1 Individual Berkshire Hathaway HomeServices Real Estate Agent in San Diego County. James can be reached via email at james@jamesjam.com or by phone at 858-210-0509. James Jam's personal philosophy is "Dreams Made Real" that encompasses the perfect real estate experience. It is the gold standard that he has strived to provide throughout his career as a residential real estate agent since 1989.
Thinking of selling your home in Carlsbad, CA? I have a passion for Real Estate and love to share my exclusive marketing plan.
I service Real Estate sales in the following San Diego County areas: Carlsbad 92008, Carlsbad 92009, La Costa Carlsbad 92009, as well as La Costa Valley 92009. Additionally, La Costa Oaks 92009, Carlsbad 92010, and Carlsbad 92011. Also Encinitas 92024, Olivenhain 92024, Rancho Santa Fe 92067, Rancho Santa Fe 92127, La Jolla 92037, Lake Hodges Escondido 92029, Elfin Forest 92029, Solana Beach 92075, Del Mar 92075, Cardiff by the Sea 92007, Del Mar 92014, Carmel Valley 92130. If you don't see your neighborhood listed, please don't hesitate to contact me to discuss the marketing and sale of your home.